Yamaha is happy to announce Simon Harrer as a new Yamaha Artist.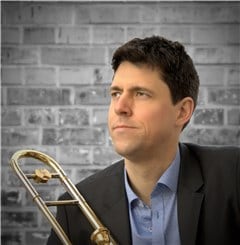 Simon Harrer is one of the most respected and active Jazz trombonists in Germany. He has played with diverse Big Bands like Ed Partyka Jazz Orchestra and hr-Big Band. He is a member of the "heavytones Band" and is also very much asked for Pop and TV Productions. Beside his outstanding playing Simon Harrer is a much sought after teacher. He worked with a lot of youth Big Bands and from 2006-2015 he hold the position for Jazz Trombone at the Hochschule für Musik Leipzig. In the same position he was teaching at the Hochschule der populären Künste in Graz, Austria.
"We are very happy to have Simon Harrer joining the Yamaha family! He's not only an exceptional trombone player but also a remarkable educator" – says Timo Hänf, Product Specialist, Brass, Yamaha Music Europe.
Since 2014 he is professor for jazz trombone at the Academy of Music Carl Maria von Weber Dresden and manages, among other things, the big band of the university.
"At the Yamaha Atelier in Hamburg I could try different models. Over the years as a musician you develop a concrete idea, how you would like to sound. The Custom Z Series gives me the ability to customize the trombone to make my sound idea one-to-one. The well-balanced sound, the easy response and the good workmanship make it fun to play - and that's what it should be!" Simon Harrer plays YSL-891Z.