A conversation with Marianna Bednarska
A conversation with Marianna Bednarska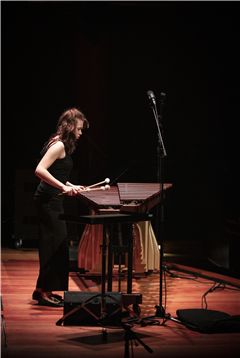 With the 74th Geneva International Music Competition having concluded, we caught up with 2nd prize winner Marianna Bednarska, who gave us an insight into the rigorous preparation that goes into contests like these.
Marianna, you've already taken part and have won some of the major percussion contests, most recently the Prix Credit Suisse Jeunes Solistes. Do you still get nervous or are you starting to find a routine?
Of course, I feel extremely happy and excited to participate in the Concours de Genève 2019! This is obviously a huge artistic challenge, which requires a lot of devotion, patience, resistance and diligence but at the same time brings new musical inspirations and a desire of developing and expressing an individual artistic language. The process of everyday work can surely become a routine but I think that it is very important to stay curious and aware of the musical process by itself, which always brings the most excitement and fulfilment. I feel extremely grateful for my musical adventure with the Competition Prix Credit Suisse Jeunes Solistes and now I remain no less excited for the participation in the Concours de Genève, which allows me to expand my knowledge and gain new experiences on my artistic path.
What was the most challenging piece you had to learn for the concours?
It is very hard to indicate one special piece, because the whole repertoire for the Concours brings new challenges and opens completely unknown horizons. Each position in my repertoire is related to completely different aspects, such as exploration of the sound with new means of expression, improvisation, connection between the percussion and the theater, playing with electronics or performing with different artists - both in a duo and with an orchestra. Undoubtedly, one of the biggest challenges here is mastering of the entire repertoire and being able to share your own musical story with the audience. Even though my program contains some of the positions that I have played before, the experience with new repertoire allows me to look at them from a completely new perspective and to enter unknown musical spheres.
We are really pleased that you have joined our Yamaha Artist Family. Do you have a favourite Yamaha instrument?
Thank you so much! I feel also extremely happy and honoured that I can find myself in such a great family and explore all of the wonderful possibilities of the Yamaha Instruments! It is so difficult for me to distinguish one unique instrument, because I absolutely love all of them. However, I think that performing on the Yamaha 5100A marimba allows me to perfectly express my connection to this wonderful percussion instrument, which has always taken a very special place in my heart.
A conversation with Marianna Bednarska