CL/QL Update V5.1 Elevates Connectivity and Scalability
CL/QL Update V5.1 Elevates Connectivity and Scalability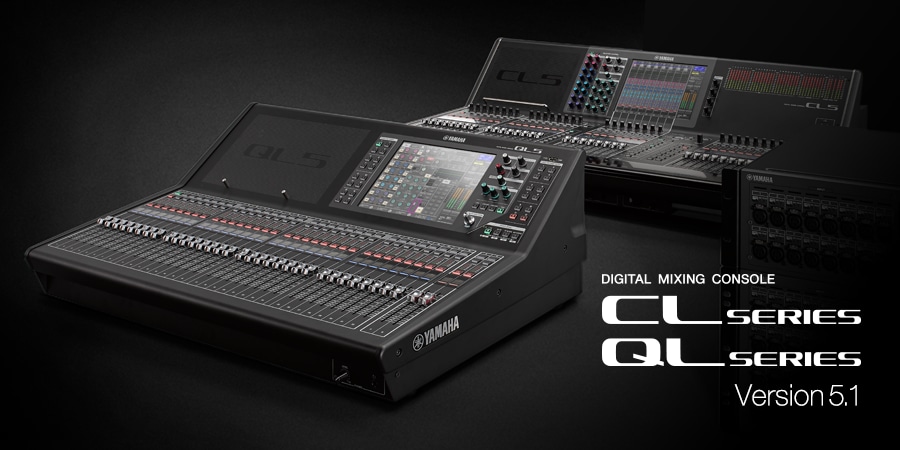 December 6, 2018. Shizuoka, Japan. – Yamaha CL and QL series digital mixing consoles have continued to evolve since their release thanks to regular software updates. Now update version 5.1 takes that evolution to a new level.
Through close collaboration with NEXO and other third-party manufacturers the list of supported Dante devices expands once again. A total of ten newly supported devices includes digital wireless receivers, digital processors, powered speakers, and other products from Yamaha, NEXO, and two other third-party manufacturers, providing significantly expanded operating flexibility for systems built around Yamaha CL and QL series consoles.
Dante devices newly supported by the V5.1 update are as follows:
Sony

DWR-R03D DWX Digital Wireless Receiver

StageTec

NEXUS(XDIP) Multichannel I/O Board

NEXO

NXAMPmk2 Powered TD Controller

Yamaha

DZR-D series Powered Loudspeakers
DXS XLF-D series Powered Subwoofers
MRX/MTX series Signal Processors
In addition to device support, the V5.1 update allows remote control of NEXO NXAMPmk2 and Yamaha DZR-D/DXS XLF-D series power amp functions directly from CL and QL consoles, including I/O meter and status monitoring, output level control, and muting. The ability to monitor and control systems from input to output via the console contributes directly to higher standards of system operation and safety. It also reduces the need for multiple computers to manage the same tasks, reducing clutter and confusion in the control booth.
According to Yoshi Tsugawa, general manager of the Yamaha pro audio division, "Regular updates to the CL and QL series consoles have kept them ahead of the curve for a wide range of applications including live music, corporate events, broadcast, and theater. In version 5.1 we have cooperated with third parties to provide an expanded list of supported Dante devices for even greater connectivity and scalability. The addition of remote control for NEXO power amps and Yamaha powered speakers is also a notable refinement, providing a high-level total solution for systems based around Yamaha CL and QL consoles."
CL/QL Update V5.1 Elevates Connectivity and Scalability