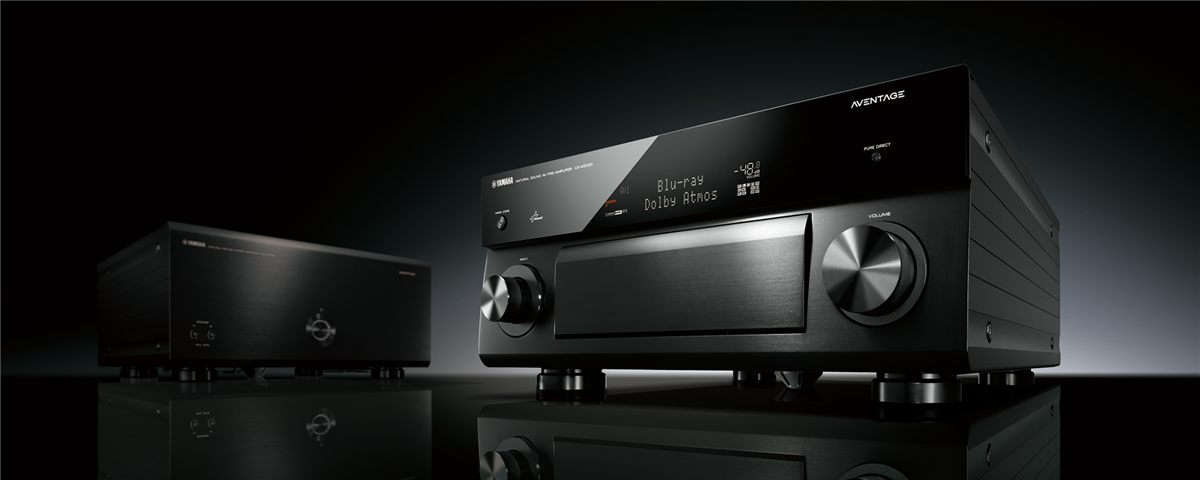 Surround Sound Processing
CINEMA DSP
Yes (HD3)
DSP Programs
33
Dialog Level Adjustment
Yes
Virtual Presence Speaker
Yes (with Virtual Rear Presence Speakers)
Dialogue Lift
Yes (no presence speakers required)
SILENT CINEMA / Virtual CINEMA DSP
Yes
Dolby Atmos
Yes
Dolby TrueHD
Yes
Dolby Digital Plus
Yes
Dolby Digital
Yes
Dolby Pro Logic IIx
Yes
DTS:X
Yes
DTS-HD Master Audio
Yes
Audio Features
Pure Direct
Yes (with video on mode)
Compressed Music Enhancer
Yes
High-resolution Music Enhancer
Yes
YPAO multi-point measurement
Yes with R.S.C. (Reflected Sound Control) and Angle measurement
YPAO Volume
Yes
DRC (Dynamic Range Control) adattativo
Yes
Initial Volume & Maximum Volume Setting
Yes
A.R.T. Wedge
Yes
Ritardo audio per regolazione Lip Sync
Yes (0-500 ms)
192kHz/24-bit DACs for all channels
Yes (ESS) 192kHz/32-bit DACs for all channels incl. presence speakers
Video Features
4K Ultra HD Pass-through and upscaling
Yes (4K60p 4:4:4)
HDMI 3D passthrough
Yes
HDMI Audio Return Channel
Yes
Component upconversion
Yes
HDMI upscaling
Yes (Analogue to HDMI / HDMI to HDMI)
Video adjustment
Yes
Deep Color/x.v.Color/24Hz Refresh Rate /Auto Lip-Sync
Yes
Connectivity
Ingressi/uscite HDMI
8 / 2 (HDCP2.2, HDR10 / Dolby Vision / HLG and BT.2020 compatible)
HDMI CEC
Yes (SCENE, Device Control)
USB Input
iPod / iPhone, USB Memory, Portable Audio Player
Network Port
Yes
Wi-Fi
Yes (with Wireless Direct)
AirPlay
Yes
Bluetooth
Yes
Front AV Input
HDMI / USB / Analogue Audio / Optical / Composite
Digital Audio Input/Output: Optical
3 / 0
Digital Audio Input/Output: Coaxial
3 / 0
Analog Audio Input/Output
XLR Balance: 1 / 0, RCA Unbalance: 9 (front 1) / 0
Ingresso phono
Yes
Component Video Input/Output
3 / 1
Composite Video Input/Output
5 (front 1) / 1
Preout
XLR Balance: 11.2ch, RCA Unbalance: 11.2ch
Headphone Output
1
Tuner Section
Sintonizzatore FM/AM
Yes
User Interface
On-screen display
Graphical User Interface
SCENE
SCENE PLUS (12 sets)
App Control
Yes (iPhone / iPad / Android phone / tablet)
Web Browser Control
Yes
Telecomando
Yes (Preset, Learning, Macro, Full LED Backlight)
Zone Control
Uscita audio Zona 2
Preout / HDMI
Uscita audio Zona 3
Preout
Uscita audio Zona 4
HDMI
Zone Video Output
HDMI / Component / Composite
Zone HDMI
Yes (Advanced HDMI Zone Switching)
Zone B Output
HDMI
Zone GUI
Yes
Interfaccia RS-232C
Yes
Uscite impulsi di comando +12 V
2
Ingressi remoti (IR)
1 / 1
Party Mode
Yes
General
Standby Power Consumption (IR only)
≤0.1W (typical)
Auto Power Standby
Yes
Dimensioni (L x A x P mm)
435 x 192 x 474 mm (with antenna up: 435 x 247 x 474 mm); 17-1/8" x 7-1/2" x 18-5/8" (with antenna up: 17-1/8" x 9-3/4" x 18-5/8")
Peso
13.5 kg; 29.8 lbs.