Heavy and Stable Construction
The BD-A1060 has a front panel made of high-grade aluminium. The top cover is 0.6 mm with a 0.6 mm thick steel plate, and the bottom chassis is 0.8 mm with a 1.2 mm thick steel plate. Compared to the previous model, it is 30% heavier, using a heavy base to provide a stable core for high stability. In addition, the drive mechanism is mounted to the chassis by a 1.2 mm-thick steel plate. Thanks to this strict anti-vibration construction, signal degradation is minimised.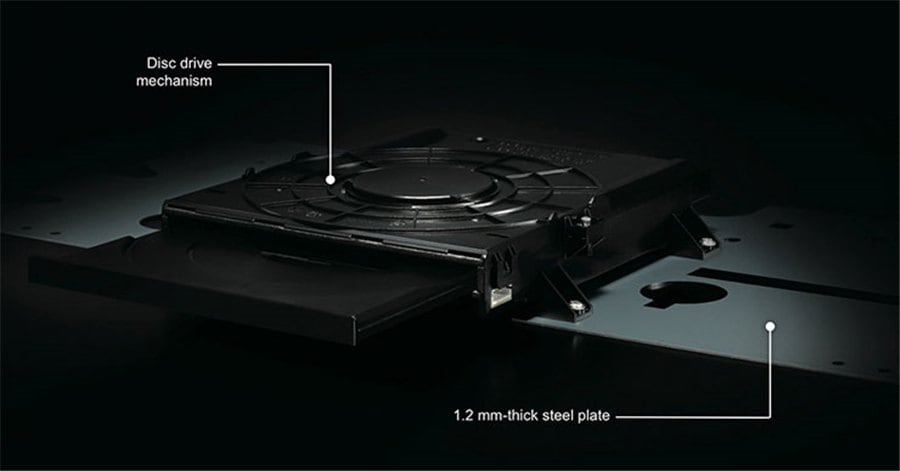 High Purity Power Supply and Chassis Construction
The BD-A1060 has independent power supply and audio circuit boards, with a magnetic shield between them. In addition, the winding wires of the transformer digital and analogue sections are independent and also have separate earths for lower impedance, so noise caused by electrical and magnetic interference is held to an absolute minimum, improving the S/N ratio.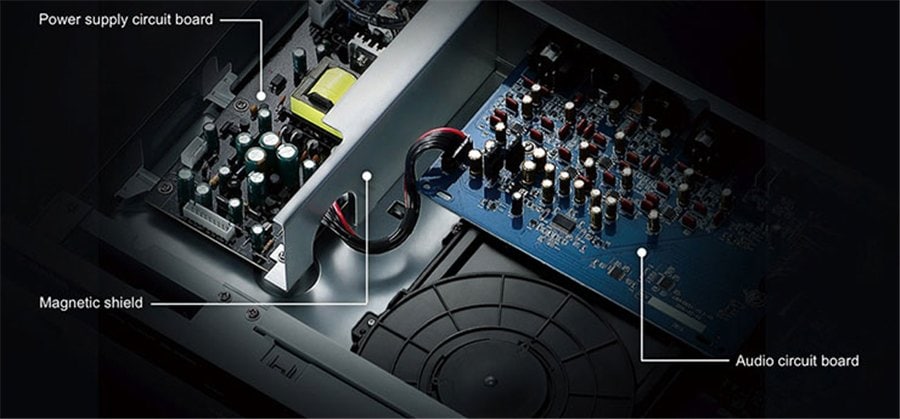 Progettato per un'eccellente qualità audio
The audio circuit uses block chemical capacitors of the same type used in the high-end AV receivers and all other major parts are selected for highest sound quality. Furthermore, the earth that is the base of the circuit, applied to all parts, both audio and digital have completely eliminated loops; also points were reconsidered to minimise induction and interference for pure and stable earths, eliminating the negative influences on sound quality.
CD Mode per una maggiore purezza del suono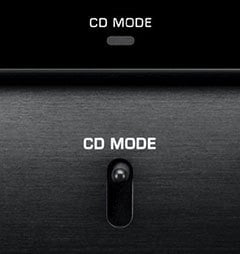 The BD-A1060 offers a CD Mode for playing music discs. This mode reduces disc revolution by 20%, thus improving data reading sensitivity. In addition, the combination of drive motor stability and disc rotation greatly reduces vibration. It also turns off the HDMI video output and other circuits that are unnecessary for audio playback. As in high-end CD players, high sound quality music reproduction has become possible.
Compatible with XLR Terminals and Balanced Transmission
The BD-A1060 provides XLR audio output terminals, which are used for pro audio applications and ensure low noise for high sound quality. In addition, all stages after the audio DAC to the output terminals are balanced. When used together with an amp that has balanced input terminals, such as the CX-A5100 AV Preamp or the A-S3000 or A-S2100 Hi-Fi Integrated Amps, the highest possible disc reproduction performance is achieved.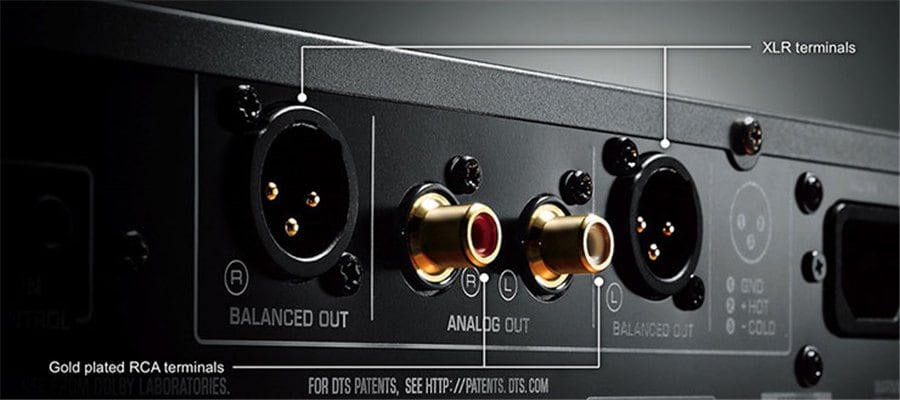 Upscaling 4K per una qualità video migliore
The BD-A1060 features a 4K upscaling function. Any resolution video image can be upscale to the latest 4K resolution. You can enjoy video from Blu-ray Discs with the image detail and depth that only 4K can provide.
Supporta numerosi formati video e la riproduzione audio ad alta risoluzione
The BD-A1060 supports playback from Blu-ray 3D™ discs, as well as from SACD and DVD discs. It is compatible with the Dolby True HD® and DTS-HD Master Audio™ surround sound formats. Additionally, for network use, it can handle FLAC and ALAC 192kHz/24-bit and DSD5.6 MHz high resolution audio formats. You can enjoy a wide variety of video and audio content with just this one player.
Compatibilità con Miracast™ per accedere a numerose risorse da Smartphone o Table
Compatibilità con Miracast™ per accedere a numerose risorse da Smartphone o Table Questo lettore Blu-ray Disc è compatibile con Miracast™, uno standard wireless che permette di connettere qualsiasi dispositivo smartphone o tablet per il mirroring di video e foto al lettore, affinché l'intera famiglia possa vedere tale contenuto sullo schermo TV. Utilizzando un sintoamplificatore AV Yamaha, è possibile visualizzare numerose sorgenti trasmesse via Miracast™ con un suono estremamente dinamico.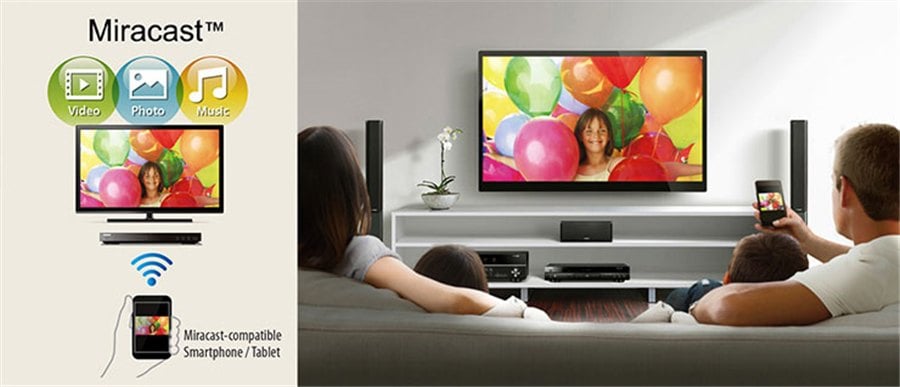 Wi-Fi integrato e Wi-Fi Direct®
Il Wi-Fi integrato consente la connessione wireless con il router di casa, semplificando notevolmente l'utilizzo della rete e dei servizi audio e musicali in streaming. E' possibile controllare il lettore Blu-ray utilizzando l'app AV Controller o l'app MusicCast. Nel caso non fosse presente un router Wi-Fi la funzione Wireless Direct permette lo streaming di musica direttamente dal dispositivo mobile.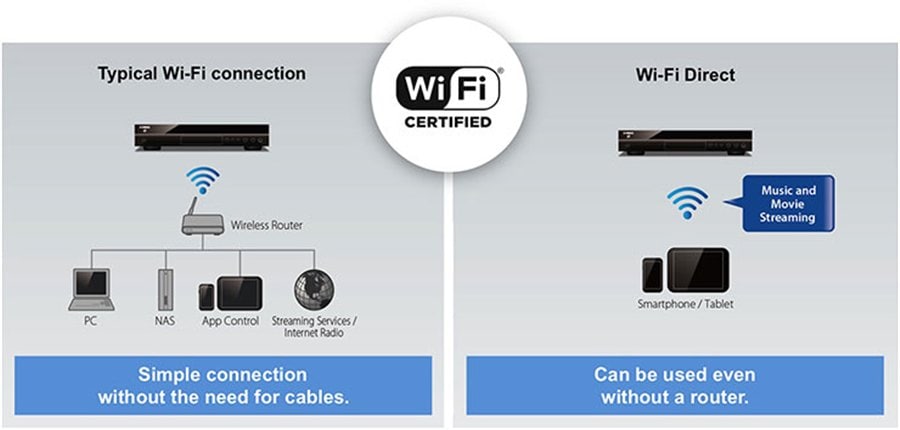 Operazione e set up semplici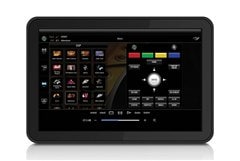 Setup wizard per impostazioni semplici
Compatibilità Picasa per la visualizzazione di foto digitali
• Software upgrade via network or USB
• Multi language on screen display GUI
• Sequential operation of the TV, AV receiver and this player (HDMI CEC)
Accensione e riproduzione one-touch da pulsante SCENE del sintoamplificatore AV
• iPhone®/iPad®, Android™ phone/tablet app control
Funzioni Network
• VUDU® compatibility for video on demand (for USA only)
• Playback DLNA® server (PC or NAS) contents
• Software update capability via network
Specifiche Video
Compatibilità con x.v.Colour e Deep Colour
• Video noise reduction feature
Caratterstiche audio
Uscita con bitstream Audio HD
• Direct bitstream and multi channel linear PCM output via HDMI
Audio Pure Direct
Carattersitiche avanzate
Connessione Internet per intrattenimento e informazione con BD-Live™
• BONUS VIEW™ provides secondary video and audio for enhanced commentary and information
• Wide variety media and format support:
- Blu-ray Discs, DVDs, SACDs, CDs
- BONUS VIEW and BD-Live
- USB
- DLNA(DMP/DMR)
• Multimedia compatibility:
- MKV with H.264, MPEG PS, MPEG TS, MPEG-4, VOB, AVI, ASF, WMV, AVCHD (Video)
- MP3, WMA, AAC, WAV, FLAC, ALAC (Audio), DSD
- JPEG, GIF, PNG (Picture)
• Playback of JPEG slideshows with MP3 audio sound track