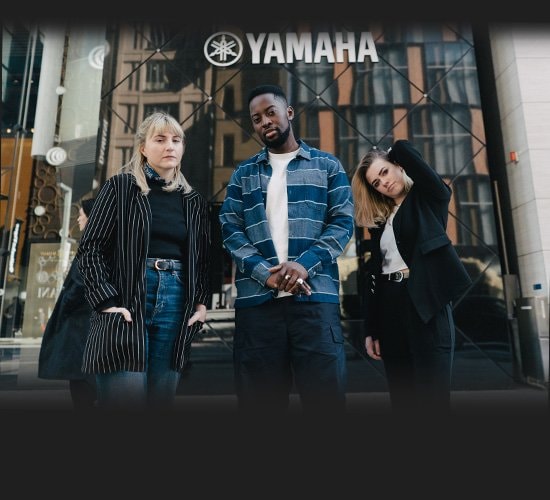 L'iniziativa di Yamaha dedicata ai talenti emergenti presenta nuovi artisti e nuova musica.
DOCUMENTARIO
Serie documentario che segue il viaggio di sei artisti emergenti provenienti da tutta Europa che si riuniscono per un'esclusiva esperienza di scrittura di canzoni a Barcellona, in una villa piena di strumenti e con uno studio di registrazione, con l'obiettivo di collaborare, creare musica ed esibirsi dal vivo.
EPISODE 1: WRITING & COMPOSING
6 upcoming artists who haven't met before, arrive at the House of Talents in Barcelona. They form teams of two and start their mission to create songs in three days, leading up to a final performance of their work in an intimate concert. The first episode captures the beginning of this creative journey, from the artists getting to know each other, to start writing lyrics and composing melodies.
On the second day in the House of Talents, the artists get the chance to experiment with their tracks in the villa's home studio. Producer Jesus supports them with refining song layers and exploring new instruments. Yamaha artist Miki Santamaria pays a visit to support the new talents in their creative process.
EPISODE 3: FINAL PERFORMANCE
On the final day in the House of Talents the artists get ready to perform their individual songs that they have been working on the past days. In an intimate concert they showcase their results in front of each other.
PANEL
Gli artisti emergenti di WAY UP si riuniscono in diversi luoghi in tutto il mondo per parlare delle loro esperienze nell'industria musicale, di cosa significhi esprimersi attraverso i loro brani e della loro evoluzione personale in quanto musicisti.
UK artists JNR Williams and Wyldest from London meet with US artist Maggie Miles from Nashville. At the Yamaha Ginza Hall in Tokyo, the emerging artists share experiences in song-writing and how music empowers them to express their emotions and convey a message.
MUSICA
La playlist WAY UP contiene una selezione di brani musicali originali dell'artista emergente presentato nella serie di video WAY UP.
PODCAST
WAY UP: HOUSE OF TALENTS è un podcast complementare al documentario, in tre parti, sui talenti emergenti di Yamaha. La conduttrice Parisa Tarjomani parla con alcuni degli artisti che quest'estate sono stati invitati a partecipare a un'esclusiva esperienza di scrittura di canzoni in Spagna, dove Yamaha ha riunito nuovi artisti di tutta Europa a Barcellona, in una villa piena di strumenti e con uno studio di registrazione, l'ambiente ideale in cui creare musica e collaborare. Gli artisti, che non si erano mai incontrati prima, si sono divisi in team di due e, nel giro di tre giorni, hanno scritto un testo, composto una melodia e registrato un brano per poi esibirsi dal vivo, l'ultimo giorno, in un concerto intimo. ASCOLTA E ISCRIVITI SUBITO!