Biography
Eric Valentine is a noted musician in contemporary jazz/fusion and rock circles who is recently busy playing on the "G3" tour with Steve Vai.
Eric has also been touring with legendary session guitarist and TOTO member Steve Lukather for over the last 4 years and played several tracks on his latest album.
Also look for Eric performing with Guitar legends Steve Vai and Steve Lukather on the G3 2012 tour also featuring Joe Satriani.
Because Eric is such a musical chameleon you can also see him on tour with many different artists at any moment. Eric travels frequently all over the world with different artist as a hired gun to lay down solid grooves with musicality and showmanship....
Other superstar artists Eric has toured and or recorded with include Randy Jackson,Patti Labelle, Erykah Badu, Music Director for Jonathan Butler (2003-2007) Music Director for Stephanie Mills,Keiko Matsui, Greg Karukas,Stevie Wonder, Ian Anderson (from Jethro Tull), Doug Aldrich(from Whitesnake),Dionne Warwick,Earl Klugh,Jeffrey Osborne, Lee Rittenour, Micheal Paulo,Dave Koz and friends at sea,The Smooth jazz cruise, Wayne Linsey (The Tonight Show), Brian Simpson,Eric Benet ,Babyface, Patti Austin, Jeff Lorber,David Benoit, Marcus Anderson,Brian Culberson, Christopher Cross,Jonathan Fritzén, Gerald Albright, Kirk Whalum, Maysa Leak, Regina Bell, Chris Botti, UNam, Jonathan Butler, Everette Harp, Eric Marienthal, Nick Colionne, Najee, Yolanda Adams, David Pack, Darryl Coley, Mindi Abair, Paul Reed Smith, Chuck Brown, Everette Harp, Jeff Golub,Marcus Johnson,Wayman Tisdale, Rick Braun, Peter White, and many others…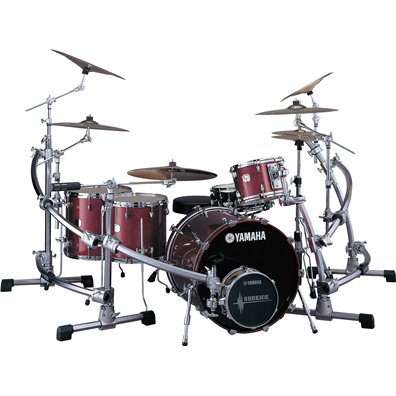 Con la serie Absolute YAMAHA è possibile realizzare il drum kit ideale scegliendo i propri elementi preferiti tra i nostri materiali e componenti della miglior qualità.

Altri colori disponibili
Rullante in rame 14" x 6 1/2" modello Mike Bordin Signature