Biography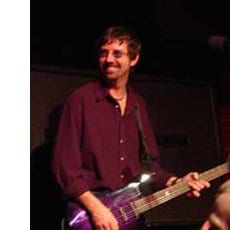 Born in Jackson, Mississippi in 1961, Ty Tabor began singing and playing guitar at a young age, and by his early teens was performing with his father, brother and some friends in a bluegrass band, sharing the bill with bluegrass legends like Lester Flatt and Grandpa Jones.
In 1980 he met up with bassist Doug Pinnick and drummer Jerry Gaskill, and the seeds of King's X were sown - first calling themselves the Edge doing pop covers, then three years later as Sneak Preview, which saw an eponymously named album of all original material. After a move to Houston in 1985, the band changed their name to King's X, secured a record deal in 1987 and released their debut album, Out of the Silent Planet, the following year. This immediately attracted much critical acclaim for the band's distinctive marriage of Beatles-style vocal harmonies and power-laden, Black Sabbath-type underpinning, although the second album, Gretschen Goes to Nebraska in 1989, is reckoned by many fans to be the band's all-time classic.
After extensive touring and a couple of record-label changes in the ensuing years, King's X continue to draw packed audiences from a broad and avid fan-base, while Ty has worked on numerous side projects including Platypus whose members include fellow Yamaha artist, bassist John Myung of Dream Theater. At his own studio, Alien Beans, Tabor has produced solo albums such as Moonflower Lane and Naomi's Solar Pumpkin - the latter with Ty playing all the instruments - while April 2002 saw the release of his third album, Safety. Other recent collaborations have been Platypus's latest album The Jelly Jam, and Jughead with keyboardist Derek Sherinian and the Bissonette Brothers. Ty's latest release is an ambient/instrumental CD, In the New Age, available exclusively via his website.