Dante è una tecnologia di network audio sviluppata da Audinate. Le apparecchiature Dante sullo stesso network si individuano automaticamente tra di loro. Ciò può rendere più semplice il setup del sistema riducendo la complessità e i potenziali errori. In questo senso Dante può essere inteso come tecnologia network plug-and-play.
Questa guida mette a fuoco la progettazione del network più che le caratteristiche principali o dei singoli prodotti del network Dante.
CL/QL Series Online Seminar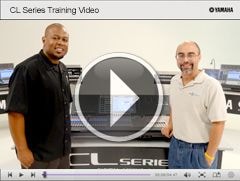 Experience our CL/QL series training seminar online!
The features and functions are explained by Leland Green and Jose Perez - top two of the most experienced trainers of Yamaha digital mixing consoles. You can follow the contents in order, or choose a paticular video focusing on a topic.
[Notes:] These videos were created using CL Series firmware V2.0 and QL Series firmware V1.0. The latest specifications are subject to change with future firmware update.
* The subtitles are available in English, Spanish, Russian (partly), Chinese, and Japanese. If your language does not appear, click the menu button at the bottom-right of player and choose it.
2. System Configuration - Basics
3. Console Operation - Basics
4. Console Operation - Advanced