Biography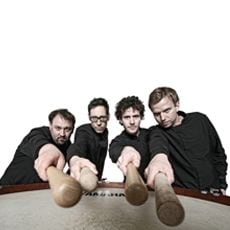 "You find yourself where you generally do not expect to be with a classically trained ensemble: in urban spaces, in a club, in the neon-lit night," wrote the TAZ, and the Hamburger Morgenpost praised the "sound of great precision, shining in ever-changing colours". Elbtonal Percussion's members Behrend, Rummel, Kauffmann, Krause & Schreiber make up one of the most innovative and dynamic percussion ensembles today.
Beyond repetitive afro-trance-percussion and incorporating a wide array of styles, this quartet (established in 1996) crosses through classical repertoire, new music, rock, jazz and drum'n'bass. Centred in an aesthetically pleasing amassment of glittering drums, cymbals, bells, marimba, vibraphone, gongs, and traditional Japanese wadaiko drums, these Hamburg musicians captivate the audience with their dynamic live performances. ElbtonalPercussion have published four of their own CDs to date and have made guest appearances on several other albums and compilations. Concert tours have led the four musicians to Japan and famous festivals such as the Schleswig-Holstein Music Festival and the JazzBaltica festival in Northern Germany.
For want of original historical repertoire, the ensemble often create their own works and have experimented with new concert forms involving live electronics. In addition, they are constantly on the lookout for opportunities to collaborate with guest musicians and artists from other disciplines. This has resulted in some exciting projects for e.g. with vibraphonist Christopher Dell, design icon Peter Schmidt, John Neumeier's Hamburg Ballet, organist and composer Claus Bantzer, marimba virtuoso Keiko Abé, Christian Brückner, or the world-famous drummer and percussionist Trilok Gurtu.