Biography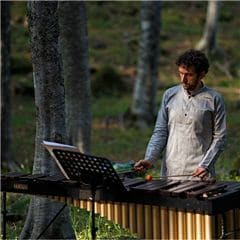 Percussionist dedicated to the study and dissemination of New Music, he has given solo concert throughout Europe including festivals such as Autumn Warsaw, Aperto in Reggio Emilia, Biennale Musica of Venezia, Gaida in Vilnius, Huddersfield Contemporary Music Festival, Impuls Graz, London Ear Festival, L'Arsenale di Treviso, L'Espace sonore in Basel, Manca in Nice, Milano Musica, Zagreb Biennale.
He played as ensemble player with Klangforum Wien, mdi ensemble, Neue Vocalsolisten, Phace, Prometeo, Repertorio zero, giving concerts in many festivals: Acht brücken musik für Köln, Ars Musica in Bruxelles, Berlino Ultrashall, Donaueshinger Musiktage, Harvard University, Luzerne Festival, MiTo, Parco della Musica di Roma, Ravenna Festival, Salzburg Festspiele, Teatro Colon de Buenos Aires, Tohnalle in Zurich, Traiettorie, Wien Modern.
He worked with composers like Giorgio Battistelli, Pierluigi Billone, Emanuele Casale, Hugues Dufourt, Ivan Fedele, Luca Francesconi, Beat Furrer, Henri Goebbels, Helmut Lachenmann, Peter Maxwell Davies, Riccardo Nova and Salvatore Sciarrino, Giovanni Verrando and he realized many projects with artists such as Iannix, John Malkovitch, Matmos, Ennio Morricone, Sainkho Namtchylak. He commissioned works to composers such Andrea Agostini, Silvia Borzelli, Gabriele Manca, Vittorio Montalti, Filippo Perocco, Johan Svensson, Stefano Trevisi, focusing often on new experimental projects thus enriching the percussion repertoire. He plays with the pianist Andrea Rebaudengo and the guitarist Flavio Virzì.
He played together with the most prestigious Italian orchestras such as Filarmonica della Scala, Fenice of Venice, Maggio Musicale Fiorentino, Opera of Rome, Orchestra Mozart, Comunale of Bologna, Lirico of Cagliari, Massimo of Palermo, Filarmonica Toscanini.
Alongside the career of performer he combines both teaching and research, realizing edition for percussion music (in 2012 Casa Ricordi published his reconstruction of the unedited composition Golfi d'ombra by Fausto Romitelli), and holding conferences (Hochschule für Musik in Basel, Ferienkurse für Neue Musik in Darmstadt, University of Strasbourg) and masterclass.
He recorded for Aeon, Neos, Kairos, Stradivarius, Wergo and has been broadcast by Rai Radio3, HRT (Croatian Radio), ORF (Austrian Radio), Deutschlandfunk; in 2010 Skyclassica-television has made a documentary about him for the format I Notevoli. In 2011 he was awarded with the "Silver Lion" at the Biennale Musica di Venezia with Repertorio Zero. From 2009 till 2012 he had been artistic director of the Festival Percussione Temporanea in Reggio Emilia. He collaborates with the Maramotti Collection, contemporary art museum as music consultant.
In 2015 he was professor at conservatory "Cilea" in Reggio Calabria. At present he is teaching at Conservatory "Canepa" in Sassari. He studied percussion with Francesco Repola, Jonathan Faralli, Eric Sammut (Conservatoire Nationale de Paris-CNR), Christian Dierstein and Marcus Weiss (Hochschule für Musik in Basel), and Musicology at the faculty of literature and philosophy in Bologna.