Biography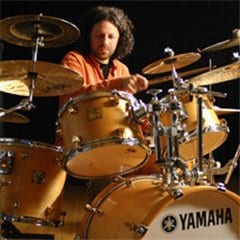 Percussionist, drummer, composer and producer Renzo Spiteri is a creative artiste and one of Malta's finest music exports renowned for speaking multiple languages with his hands. He collaborates on a stunning number of projects and works in multiple directions, on world music projects that undertake to bring together a wide range of musicians, as well as solo projects where there us a spirit of enquiry, seeking to discover how variant rhythms and sounds work together. His artistic sensitivity, intrinsic musicality, stylistic breadth and penchant for non-traditional approaches to composition provide the perfect ingredients in creating a solid technique and vocabulary allowing for the creation of innovative multimedia performance work.
Renzo Spiteri is a highly respected independent musician with a distinct artistic sensitivity and ability of adapting to a wide range of musical styles – classical to experimental, from solo percussion performances to improvisations, contemporary, jazz and world music. A music graduate with a performance career spanning more than 25 years, Renzo has given more than 1000 concerts and live performances across the globe, as well as having appeared and performed on numerous radio and television broadcasts. He aptly merges academic and classical music endeavors with creative artistic expression to stage outstanding live performances that range from the sublime to the passionate.
Based in the European island nation of Malta, Renzo's concert schedules have taken him on a beautiful musical journey across the globe, from Greenwich Village (New York City) to South Korea. He performs in major festivals (WOMAD, Festival of the Desert, Musica Viva, PASIC) and venues (Kennedy Center for the Performing Arts (Washington DC), National Concert Hall (Dublin), Babylon Club (Istanbul), Ludwig Forum (Aachen)), and works as multi-percussionist and drummer alongside exceptional musicians to the likes of Trilok Gurtu, N'faly Kouyate (Afrocelt Sound System), Guo Yue, Mercan Dede, Idan Raichel and Michael Alcorn (SARC). Using the universality of music as common ground, he engages musicians from various musical and cultural backgrounds to collaborate and create unique transcultural musical dialogues. In 2008 Renzo was appointed Ambassador for the European Union's campaign "Year for Intercultural Dialogue" and performed "Sketches from Home" during the Festival of Cultures in Viareggio (Italy) (by invitation of the Italian Ministry of Culture).
Renzo's concern with the use of sound, its sculptural design and the influence it exerts within the various genres of artistic expression has allowed him to merge his role of musician with that of composer, musical director and producer, acting as a strong linking point between the music itself and the art form - be it a film, dance choreography, theatre production, literature recital or visual installation. He has scored and recorded music for the visitors' audio guide of Hal-Saflieni Hypogeum, Malta (a UNESCO World Heritage Site), performed "Sounds Unlimited: Contemporary Soundscapes in One Act" on occasion of the Commonwealth Heads of Government Meeting 2005 (presented by The National Arts Council of Northern Ireland and The British Council), and presented installation performance "Re: Public" to celebrate Cork (Ireland) as European Cultural Capital.
As an educator, Renzo has given masterclasses and collaborated with the music departments at Queen's University (Belfast), University of Iowa (USA) and China Conservatory of Music (Beijing). He often combines unconventional performance and recording techniques using traditional and invented instruments with current technological advances to develop fresh musical possibilities and modes of expression. The resultant effect is stunning and engaging and bears Renzo's unique dynamic sonic signature. This enthusiasm for experimental presentations of percussive music was highlighted during his residency/research period at the Sonic Arts Research Centre (SARC) in Belfast (N. Ireland) where he merged the resonance of "found objects" and more conventional instruments with live-electronic manipulation.
Renzo has produced and released two albums with his works: "INKONTRI" (2010), also featuring Joe Friggieri that merges Friggieri's poetry with contemporary music composed and performed by Renzo; and, "THIS IS MY LANGUAGE" (2005), a solo album with Renzo's own original works for percussion described by him as "a personal statement, an inner voyage into the beauty and abstract forms of music as a means of expression".
Renzo is a fan of all things Yamaha - be it acoustic and electronic drums and percussion, and music production equipment.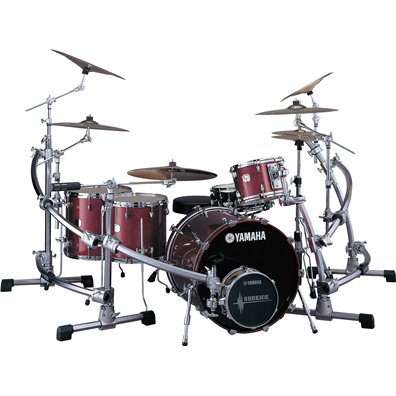 Con la serie Absolute YAMAHA è possibile realizzare il drum kit ideale scegliendo i propri elementi preferiti tra i nostri materiali e componenti della miglior qualità.

Altri colori disponibili